School visit for sponsored cyclists
MFFC news | credit: by Natasha Hickman on: Wednesday, 9 December 2015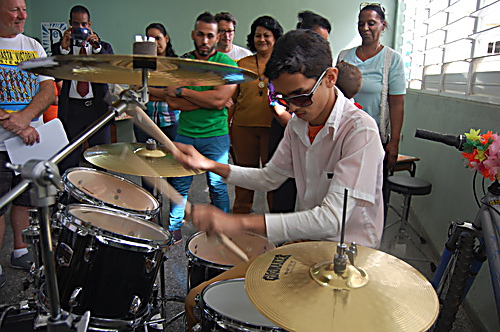 Riders on the Cycle Cuba Challenge 2015 were welcomed by staff and students at the Abel Santamaria School of Blind and Visually Impaired Children in November 2015. The school, which provides specialised care for 145 children aged from 4-14, is a long term partner of the Music Fund.
Music and dance play an important role in developing the children's confidence and expression and this year requested that the sponsored cyclists raised funds for instruments including a new drum kit and bass guitar.
Mike Hedges was one of the cyclists who helped to raise over £3,000 for equipment: "Donating musical instruments is a small thing but you can immediately see just how welcome these donations are here."

Contact us to find out about the 2017 Cycle Cuba Challenge.
---