Thousands of instruments shipped to Cuba
MFFC news | credit: by Natasha Hickman on: Friday, 19 April 2019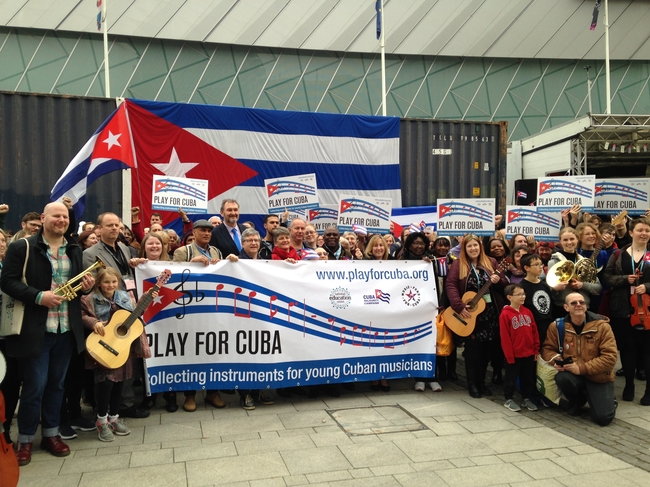 Over 4,000 musical instruments were shipped to Cuba in an amazing show of solidarity and friendship. Over 4,000 musical instruments, 3,000 pairs of ballet shoes from the Royal Ballet, and a valuable baby grand piano are among the donations that have arrived in Cuba on two shipping containers sent by the Play for Cuba appeal.
The donations included over 200 guitars, around 180 violins, violas and cellos, hundreds of trumpets, trombones and other brass and wind instruments, and even a set of bagpipes! In the end, and due to the dedicated efforts of supporters across the country, we needed to send TWO full shipping containers to the island!
From every corner of England, Scotland and Wales, Play for Cuba supporters in 40 regional collection centres gathered the instruments over a 12-month period. There were street collections, fundraising concerts, links made with local schools and colleges, and a level of campaigning and activity which empowered and energised many people across the country who wanted to help Cuba.
The final few weeks involved an often frantic effort to gather all the donations, sort them and pack them properly for their safe onward journey. There was then a huge logistical challenge to collect and transport the instruments to a few regional centres, from where they could be moved to the freight depot in Essex, for loading and final transportation to Cuba. The workers at the depot did a brilliant job carefully filling the containers with the huge variety of packages of every shape and size.
In the North East, supporters linked up with the Sage Theatre and the Caedmon Choir to collect donations.
In Worcestershire, Orkla House Care donated five pallets of brushes and arts materials for use in arts colleges across the island.
A teacher at St Bede's Clayton Green Primary School in Lancashire saw an article in the National Education Union (NEU) magazine and within days had involved children and parents to collect over 20 guitars for the appeal.
There were borrowed vans and shared journeys, and supporters made many new contacts and friends along the way. One of the regional coordinators, Julie Lamin from Merseyside, described the operation as like "being part of a huge orchestra with the Play for Cuba team conducting the logistical operation".
At times it did feel a bit unwieldy, but with everyone working together so well we managed to bring it all together in the end. Cuba Solidarity Campaign local groups were often at the heart of the regional collections, working alongside local National Education Union organisations to coordinate collection and storage. Groups also organised concerts and events to fundraise for the appeal.
---