Cuban national ballet school says "Gracias"!
MFFC news | credit: by Natasha Hickman on: Sunday, 9 January 2005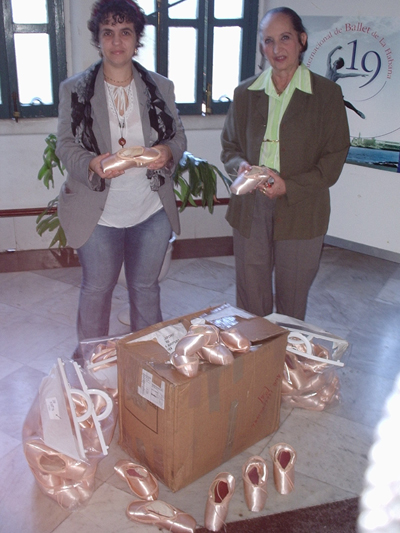 In 2004 the Music Fund received a donation of hundreds of pairs of children's ballet shoes from the Royal Ballet, Covent Garden in London. This was the second consignment of ballet shoes donated.
The shoes were delivered to the Cuban National Ballet School in Havana in December 2004. Dra. Ramona de Sáa Bello, director of the school,, expressed her warmest thanks for the donation.
The National Ballet School has existed in some form since 1931. Illuminaries such as Alicia Alonso studied ballet there and later became central to the forging of the unique internationally recognised Cuban ballet teaching method. When the National School of Arts was established in 1962 to give free access to arts education, the National Ballet School became an important arm of it. It now has over 300 fulltime students (from age 13) and over 4000 children aged 7-14 (42% male) taught in after-school classes. Carlos Acosta, principal guest dancer at the Royal Ballet in London, trained there from a young age in the 1980s.
Violins and strings donated by musicians of the Royal Opera House were also delivered to the Havana Music School.
---