Ballet shoes for Cuban dancers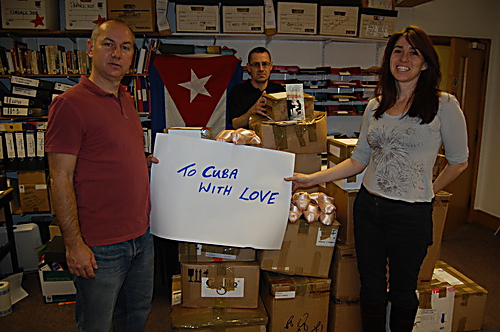 Working with British dance companies, the Royal Ballets in Birmingham and London, the Music Fund for Cuba has helped to send hundreds of pairs of ballet shoes to Cuba in the last ten years

Ballet is loved throughout the country and by subsidising entry to performances, Cuban ballet is unusual for attracting audiences from all backgrounds.
Free dance lessons give every child with a talent the chance to develop their skills and have seen a high number of internationally renowned dancers originating from the island.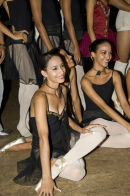 One of the biggest challenges Cuban dancers face is access to good quality ballet shoes. Practising for hours every day is harsh on shoes and feet, and Cuban dance students often dance in threadbare shoes or go without.

The Ballet Shoes for Cuba project enables dance lovers and friends of Cuba in Britain to help support the next generation of Cuban dancers by contributing to the cost of sending donated shoes to young dancers on the island. sending a pair of shoes to a young dance student on the island.
"Good quality ballet shoes are essential and make it much easier to dance and to fulfil our potential as dancers."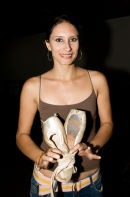 Giselys Campos, ballet student, Santiago de Cuba
£20 can provide a pair of ballet shoes for a young Cuban dancer.Click here to support the Ballet shoes project and send a pair of shoes to a dance student in Cuba today.
Candy Costa Aguilera, dancer, teacher and choreographer for Ballet Santiago [pictured right] holds up a worn-out, threadbare pair of ballet shoes: "this is what the dancers were using before the donation of shoes came from the Music Fund for Cuba. I still dance very well in these in fact, but the new shoes are better…!"
Background on Cuban Ballet
The National Ballet School has existed in some form since 1931. Illuminaries such as Alicia Alonso studied ballet there and later became central to the forging of the unique internationally recognised Cuban ballet teaching method. When the National School of Arts was established in 1962 to give free access to arts education, the National Ballet School became an important arm of it. It now has over 300 fulltime students (from age 13) and over 4,000 children aged 7-14 (42% male) taught in after-school classes. Carlos Acosta, principal guest dancer at the Royal Ballet in London, trained there from a young age in the 1980s.