Royal Ballet pirouettes into Cuba
MFFC news | credit: by Natasha Hickman on: Monday, 13 July 2009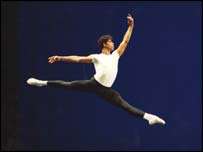 The UK's Royal Ballet has arrived in Havana for its first visit to Cuba.

It is putting on five days of shows, featuring the company's Cuban star Carlos Acosta and a tribute to Cuban ballet legend Alicia Alonso.

All the tickets were sold out within hours, as Cubans looked forward to seeing the first major ballet company since the Bolshoi almost 30 years ago.

To cater for the huge demand, the performances will be shown on giant screens outside the theatre.

The director of the Royal Ballet, Dame Monica Mason, said the national passion for ballet was one of the attractions of taking the company to Cuba.

"Dance is central to the culture in Cuba. It's at the very heart of the Cuban people," she said.

She said the tribute to Alicia Alonso would include a dance from Giselle, one of her best-known performances.

Alonso, who is 88, danced in the US and Europe and has led the Cuban national ballet since shortly after Fidel Castro took power in a 1959 revolution.

Acosta, considered one of the world's best dancers, was her student before leaving Cuba.

The company will perform at the Gran Teatro in central Havana the first three days, where the screens will be based.

The Karl Marx Teatro will host the final two.

The Royal Ballet has supported the Music Fund for Cuba with several donations of ballet shoes to ballet schools on the island in recent years.
---