Marabana Marathon – new tour for 2011
MFFC news | credit: by Natasha Hickman on: Monday, 18 April 2011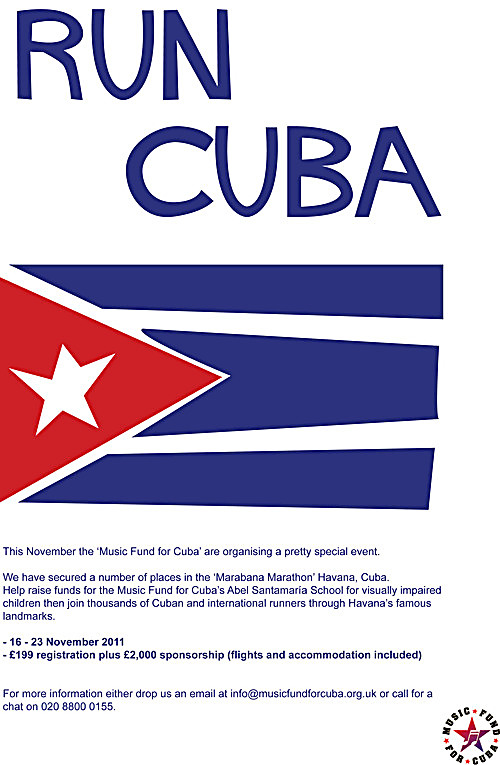 Join the team for a once in a lifetime challenge, experience Cuba and raise vital funds for the Music Fund for Cuba.

The Marabana Marathon, established in 1987, is one of the largest running events in the Caribbean and provides a unique opportunity to soak up the atmosphere and vibrant culture of Havana whilst also being a great personal physical and mental challenge.
The 26.2 mile route takes you through Old Havana, with its beautiful architectural buildings, a marvellous treasure and a UNESCO's World Heritage site. Imagine running down the Malecón, past many of Havana's iconic landmarks, such as the National Capitol, the Sports City, the Monument to the Medicine Students and the Monument to Cuba's national hero José Martí in the Revolution Square, a site of historic events in the history of the Republic of Cuba.

Runners will get a great reception from the crowds of spectators on the streets of Havana, cheering you along. The trip will also include visits to sports clubs and the Abel Santamaría School in Havana. In the evening of the marathon, we will celebrate in style with an official marathon dinner party. All runners will receive Music Fund for Cuba vests and a special marathon pack including training programmes and tips on fundraising.
Join the team for a great personal achievement, be part of a huge Cuban event and raise vital funds for Music Fund for Cuba!

16-23 November 2011

£199 registration fee plus £2,000 sponsorship.
Download a full information pack and booking forms or contact us for more information on tours@cuba-solidarity.org.uk
---
Resources linked to this item:

Download in pdf format (323 kb)
---