Oxford fundraising gig is a great success
MFFC news | credit: by Natasha Hickman on: Wednesday, 9 November 2011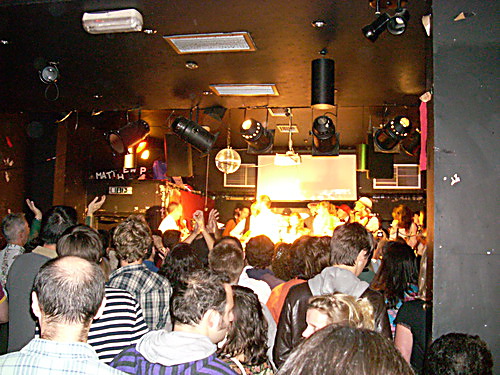 In October, Oxford Cuba Solidarity Campaign organised a fund raising night for the Music Fund for Cuba. The group Secretary reports on the event and the work that made it possible.
Saturday night on the 15th October 2011 in Oxford was Latin Dance Night. But, what a night! The event was a sell-out, the band's playing was amazing, the atmosphere electric and over £700 was raised for the Music Fund for Cuba.
How did it happen and what made it such a brilliant success? It began when members of the Oxford Cuba Solidarity Campaign tried to turn an idea they'd had for some time into a reality. How about trying to get a City centre venue interested in putting on an autumn gig and getting some musicians to play for free with proceeds going to the Music Fund?
We knew that lots of people in Oxford have been to Cuba through conversations at fund-raising stalls at local events over many years. We knew of their love of Cuban music and the willingness to support the charity set up in Kirsty MacColl's memory, so we were convinced we'd get a crowd.
So, what was stopping us?
Well, we didn't know of a sympathetic venue and nobody knew any musicians, let alone ones who would play for free! Then, one of our members said he was willing to try the Jericho Tavern to see if they would give us a rock-bottom price to hire their music room.
The Jericho is a renowned venue in the west-end of Oxford with a dedicated music room on the first floor with stage, dance area and a bar - and very popular with students and live music aficionados!
At this stage, our plan was to see if the venue would also supply a known band and our first contacts with the club were encouraging. Then, we had a breakthrough. We heard of a local musician who had just returned from Cuba and wanted to set up a Cuban-style big band.
A short email conversation took place with the would-be band leader and, after meeting him at a community fair, he told us he had collected about 20 musicians together who would willingly be the support band for our proposed gig and were already practising Cuban melodies. Everything seemed to be falling into place.
The Jericho had welcomed our idea for the gig, given us a price to hire the room and a sound engineer that wouldn't break our bank account and said they would let us know who the headline band would be. Time went on and we could get no firm information from the venue about the other band.
We hit a major setback with a month to go to the event when we were told that the person we were dealing with at the Jericho had left and there was no record of our arrangement! This went on for a couple of weeks until we got a clear commitment that we could have the room and sound engineer, but they couldn't help us with a band.
We put the problem to the band to help us make the decision whether to go ahead. They were practising hard and believed they could perform a 40 minute set as special guests alongside a DJ featuring Cuban and Latin American music (one of the band members!). We all took a deep breath and decided to go for it. The band chose their name – Ran Kan Kan, and we were on!
With 10 days to go, we pulled out all the stops for the publicity drive. We placed ads on all the free websites we could; national CSC publicised the event on their websites; we designed and produced posters to go up in local shops, cafes and businesses in the locality of the Jericho; we ran off flyers to be distributed at salsa dance clubs (of which there are many in Oxford!) and we passed the information on to all our members and other contacts. We knew things were starting to happen when the event made it onto Facebook without us putting it there!
On the night itself, over 170 people crammed into the venue to hear and dance to music from Cuba, happy to give their money to a worthwhile cause. We flew the Cuban flag and the bar served Havana Club cocktails, but the real stroke of genius was a DVD video loop on a screen behind the band showing moving pictures of the Malecon and street scenes of Havana.
However we should have dedicated someone to take a video camera along to catch something of the atmosphere – we were so busy on the night selling tickets and managing the door we only captured a glimpse of the action on a short video clip. Luckily the band took pictures and you can find them on YouTube by searching Ran Kan Kan in Oxford.
Carol (Secretary, Cuba Solidarity Oxford) November 2011
---