Cine Cubano film nights launch in Birmingham
MFFC news | credit: by Natasha Hickman on: Thursday, 27 August 2015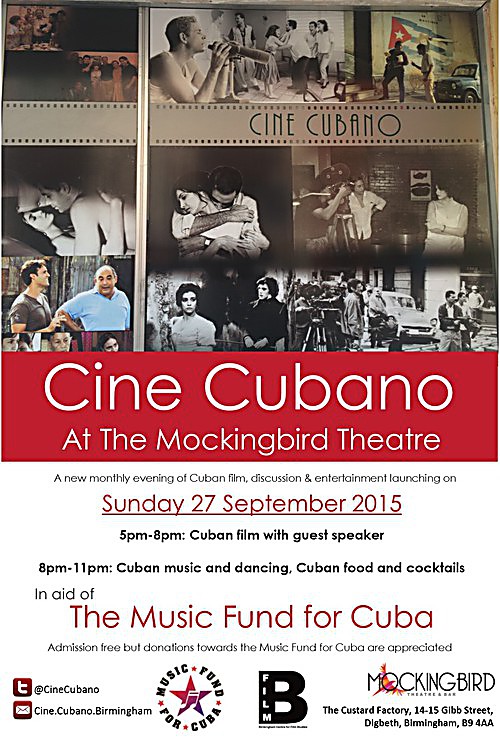 On 27 September, the Mockingbird Theatre in Birmingham will launch the first of a new monthly evening of Cuban film nights, with discussion and entertainment.
The first screening features 'Viva Cuba' directed by Juan Carols Cremata Malberti and Iraida Malberti Cabrera.
With guest speaker, Dr Guy Baron of University of Aberystwyth, Senior Lecturer in Spanish and Spanish American Cinema.
Followed by live Cuban music led by Felix Casañas from Havana and dancing with Alicia Bueno Atie.
Cuban food and cocktails available
5-11pm
Cine Cubano At the Mockingbird Theatre, Birmingham
A new monthly evening of Cuban film, discussion & entertainment. 5-11pm
Launch event is free, donations welcome.
In aid of the Music Fund for Cuba.

Contact: Cine.Cubano.Birmingham@gmail.com
Twitter @CineCubano

Venue: The Mockingbird Theatre & Bar, The Custard Factory, Gibb Street, Birmingham B9 4AA
---